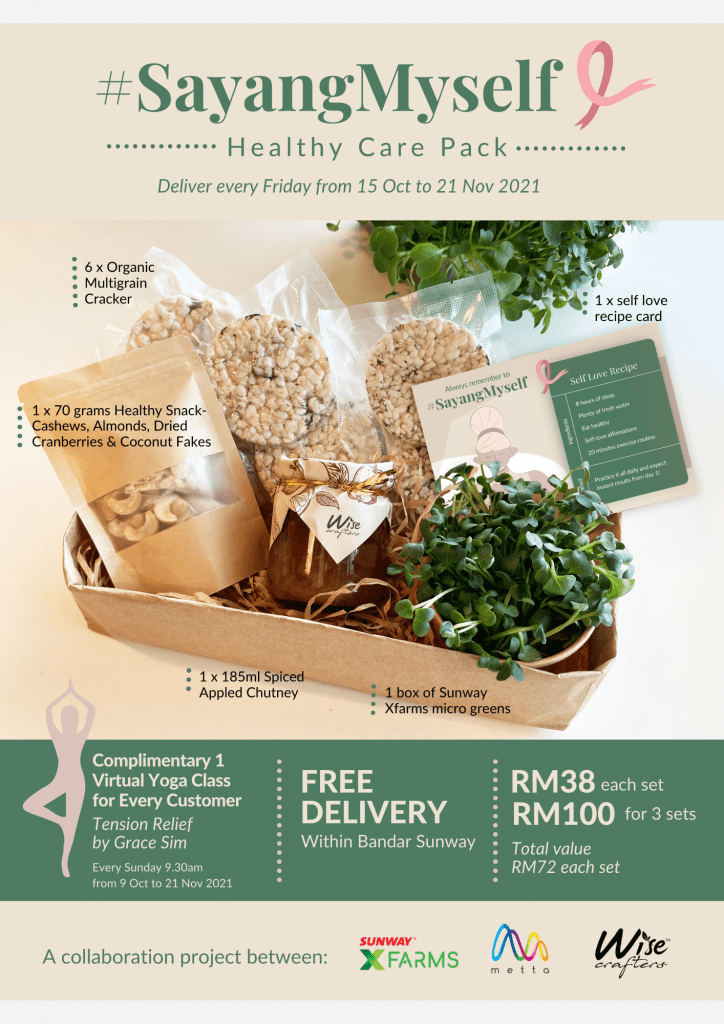 Some may find it a little distressing to be going back into the office during the pandemic (or as some call it, the "endemic"). Remember that other than our physical health, it is important to take care of our mental health by maintaining a healthy diet, exercising & finding time to unwind. To that end, we have partnered with Wise Crafters to launch a #SayangMyself care pack to help you in this process.
From now til the 15th of November, treat yourself (or a friend!) to a care pack and have it delivered straight to your doorstep (or workplace).
Each pack includes: 6 organic multigrain crackers, a bag of healthy snacks consisting of cashews, almonds, dried cranberries & coconut flakes, a jar of spiced apple chutney, a box of nutrient-filled microgreens and a self love recipe card.
While food certainly helps the stomach & soul, clear up some mind space with a complimentary yoga class with Grace Sim from Metta Studio. This is included for each customer and will be held every Sunday 9.30am from 9 October 2021 to 21 November 2021.
Spread the love to your friends & family as well with a special discount when you order 3 packs. Delivery every Friday starts from October 15, and includes FREE delivery within Bandar Sunway.