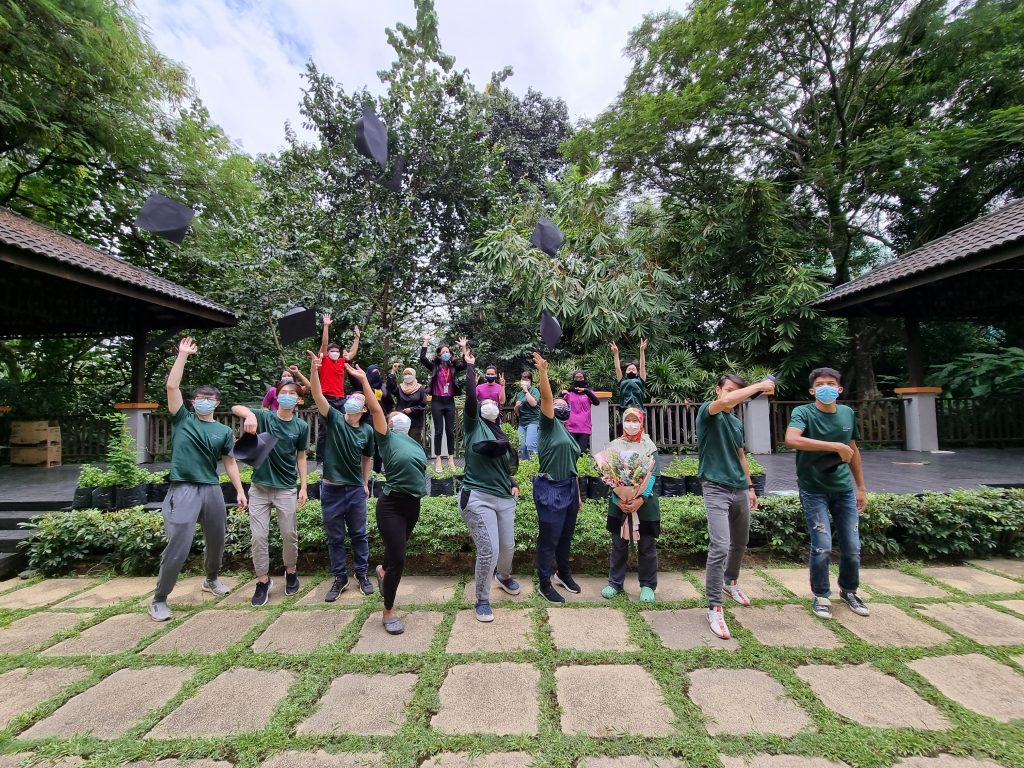 After 3 months of visiting and helping out with our farm operations, heartiest congratulations and applause were shared as our 3rd batch of Agrifood Apprentices graduated last Friday! Some of them took the time to sit down with us to share a little bit about themselves, as well as their thoughts of how it was working here!
Chong Jok Onn is an accounting student who we'd like to congratulate in transitioning to a full time job soon! Fun fact, he grows his own vegetables at home hydroponically as well!
What made you try the Agrifood Apprentice Programme?
I came across the programme on Instagram and was interested to find out more, knowing how land is becoming more and more scarce while the human population continues to grow. Other than food security… knowing how to grow your own food is a good skill to have in the event of an apocalypse.
How did the difference between your course & the farm work feel?
It was exciting and a nice change of pace. Although I want to focus on accounting at the moment, I definitely wouldn't say no to working in an urban farm in the future as I enjoy the fun of learning new things and broadening my field of knowledge.
Did you prefer group work or solo work?
I preferred group work as I could talk to people and make new friends.
Brysen Poi is a 2nd-year computer science student who is developing an app to identify plant species! He's spent the most time helping out at our farm, including setting up one of our new packing rooms!
How did you find out about the programme?
I was actually walking from the hospital and passed by the farm on the canopy walk, so I searched it up when I got home. Later the university mail forwarded us the programme so I thought I would try it out.
How was your experience here?
I enjoyed the sharing sessions, including the ones introducing the technology used in the farm. I honestly would have wanted to try helping out with the development. The agronomists Lisa & Saha were helpful, friedly, and willing to share their knowledge and experiences with us.
What improvements do you think farming should work towards?
To save water, whether it be via a recycling system or water harvesting. And power consumption for indoor vertical farms- to find the equilibrium of energy required for the plants to receive the maximum amount of light needed without wasting excess electricity.
Chang Kin Fung is a software engineering student in his 2nd year. Open to learning new things, he is always asking questions to better understand why we do what we do.
What made you try out the apprentice programme?
I stay in a hostel, so being able to work at the farm allowed me to spend some time in nature while learning new skills. I enjoyed trying all the different tasks, whether it was more practical farm work or smaller tasks such as handling the parcels. It felt relaxing, especially during this pandemic.
Did you have any difficulties balancing your studies and the farm work?
I could handle the workload overall, but in the later months most of the slots happened to be during my class hours.
How was your experience at the farm?
I got to learn many new skills. The farm management is fine, and the staff were very willing to teach us.
If you could change 1 thing in the world, what would it be?
To have economic equality– bridging the gap between the rich and the poor.
Bristi Khatun is a culinary student in her 2nd year, and one of the first batch of student volunteers during XFarms' early opening, before we even held the apprentice programme! She is now our new senior apprentice. Fun fact, she runs an NGO called One World One Family.
How does it feel returning to help out the farm after a year?
I've seen so many changes; from the discipline of operations to upgraded facilities and watching the aquaponic farm set up. Back then spargoeats wasn't even in the building yet! The farm feels like a family to me, and I really feel appreciated, as if race doesn't matter and we are all equal.
Did you have any difficulties juggling between your studies and farm work?
There was no pressure between doing my exams and the farm work. It was a good balance and was a great learning opportunity for me to understand the production of food. I'm happy with the flexibility in hours as well to help avoid any clashing schedules. I plan to study and apply agrology into culinary arts, and to teach this to others.
If anything was possible, what is one thing you would change in the world?
For everyone to have organic food. It would be great if we all knew how to grow our own food and if there were more green or growing spaces especially in working areas.
Chew Mingcong is a MUFY student who is aiming to major in Marketing. He is our other new senior apprentice! Fun fact, he has subscribed to be a Growner before!
How did the difference between your studies and XFarms feel?
It was a really big change for me. Agriculture was such a foreign concept in my mind, and I certainly didn't know urban farming existed. I enjoyed everyone's collective energy every Friday during harvest, and we got to chit chat and make friends. The farm was far from my expectations – it was smaller, clean and a good working environment. The agronomists Lisa and Saha were patient, understanding, willing to teach and fun to work with.
How do you feel becoming a senior apprentice?
I was excited to have my first working experience. 3 months felt too short, so I'm happy to continue the next 3 months as a senior apprentice.
If there was one thing you could change about farming, what would it be?
It would be to change the view of farming. The younger generation wouldn't think of going into agriculture due to the stigma of it being "primitive".
How about the world? What would you want to change?
I'm a big advocate for social equality, so it would be for people to not discriminate against each other because of their identities, including their class, gender, race, sexual orientation, ethnicity and others.
Nidhi Kasseran is a final year student pursuing a Bachelor's Degree with Honours in International Business. Hailing from Mauritius, she is looking to establish her own urban farm in the future and is always eager to help out and learn new things.
How was juggling between your studies, exams & farm work?
There was no hindrance as such because the time schedule was flexible to an extent. Besides, coming to the farm felt like a positive escape from studies.
Did you prefer group work or solo work?
Unfortunately, I could not work in groups as much as we were all available at different times. Considering the pandemic, it was indeed safer to work alone but everyone had their masks on at all times during group work; hence it was not too concerning.
If there was 1 thing you could change about farming, what would it be?
Soil-less farming has indeed revolutionized traditional farming. Yet, many of us cannot take advantage of these systems due to high maintenance costs that reflect in the final price of the vegetables. The big change for urban farming would be the development of economical alternatives to maintain the systems while retaining the quality of the vegetables.
Idris Muhammad is a 2nd year student studying culinary management, he was also part of the first batch of student volunteers along with Bristi!
What made you initially volunteer to help out at the farm?
I never knew urban farming existed and I was interested in Aquaponic farming. It's a great opportunity to learn about modern farming methods even if you are unfamiliar with agriculture. They taught it in a way that is easy to understand. Agriculture complements my major quite well as I got to learn so much about these types of ingredients and their varieties. I didn't even know mustard greens and frisee existed until I joined this programme!
How was your experience coming back after volunteering here last year?
I watched the farm grow exponentially over this past year; from seeing the set up of the aquaponics farm to growing and harvesting herbs there. It's also really nice to see how the indoor farms have been built. I enjoyed the group work very much as we could perform quality checks on each other, letting us achieve even better results.
What would you change about the world if you could?
If people were more empathetic, humane and understanding, there would be alot more unity among us. Also I would wish for education to be more accessible, especially in a way that is simple for people of any background to understand easily.
Aisha Sheikh is a 2nd year IT student who comes from a family of plant lovers. She is always bringing a smile & happy to help out.
How did you find out about Sunway XFarms?
I came across the farm on Instagram Explore and have been keeping an eye on it for a while. I find plants to be very healing and help lift your mental health. So when I saw the applications for the programme open I immediately took the opportunity to sign up. I had to find ways to balance my studies, exams and the farm work, but I always had a peace of mind whenever I had to attend my classes right after the sessions here .
How was your experience working here?
The staff were super sweet and patient with me even when I made mistakes, I didn't feel like an outsider at all. When I was working here my dad would tell me how he approved of it, and I would definitely continue volunteering for Sunway XFarms if I could.
Did working here give you any ideas to pursue for the future?
There are many vast places to explore in IT, and I want to find a way to integrate IT to aid our food systems and in helping us achieve a healthier, more sustainable lifestyle.
Kelvin Liew is our senior apprentice, as well as a final year student majoring in Biotechnology (and minoring in culinary arts)!
What made you try out the programme & how did you feel becoming a senior apprentice?
I initially found out about the programme through my university's social media, and since I had some free time while I was taking my minor, I thought some work experience is good. When I was first reached out about the senior apprenticeship, I was quite happy and excited; but what made me accept the role was definitely self-development.
How was it like to commit 10 hours a week while working on your FYP?
Needing to commit 10 hours a week with a heavy workload back at the university was definitely a struggle, but since I took the responsibility given to me, I did both to the best extent that I could. Honestly I couldn't have done it without Lisa having my back.
How was your experience here at the farm?
The staff at XFarms feels like a family– they are easy to talk to and don't make you feel uncomfortable. The farm is still at the early stage of development, but I see the strong potential it has in the coming years as we shift towards more sustainable food production.
Last but not least, Sofiah Shuhaizan is our other senior apprentice who is pursuing veterinary science! She's aided all sorts of animals and likes the wildlife best.
How did you find out about the programme?
It was honestly a coincidence, I believe it popped up while I was on social media. I had some time on my hands and thought it was a good chance to leave the house while doing something productive.
How was your experience as an apprentice here?
I enjoyed the hands-on work very much as I'm not so much of a theory person. But being able to work in the farm for 6 months instead of 3 as a senior really allowed me to understand more about the farm & get a better grasp of its operations.
How has working here impacted your thoughts on food?
Locally grown food is definitely a better food source. When I'm picking up vegetables at the store now, I'm usually wondering what soil quality they were grown in, and how long more will the nutrition in them last.
If you could change one thing about the world, what would it be?
I would like for the industries to be more sustainable in their operations & practices, and to contribute to wildlife.
Once again we thank these gifted students from the bottom of our hearts for taking the time to come and help us at the farm. We are ecstatic that they enjoyed their time here and learned many new things. This includes those who couldn't make it for the graduation ceremony, as we appreciate any and all hours committed to joining our programme. Some of them have actually appeared in our IGTV for a short interview session before! If you missed it, take a look at them at work here!
Let's wish them a fruitful journey as they continue to grow their own ways!
Thank you everyone!