We are majorly women at Sunway XFarms. Agronomists, operations, marketing & project managing, everyone is always giving it their all and willing to go a step further still. Today we have a quick chat with some of the women of XFarms who are working in generally male-dominated fields, and take a peek at their journey!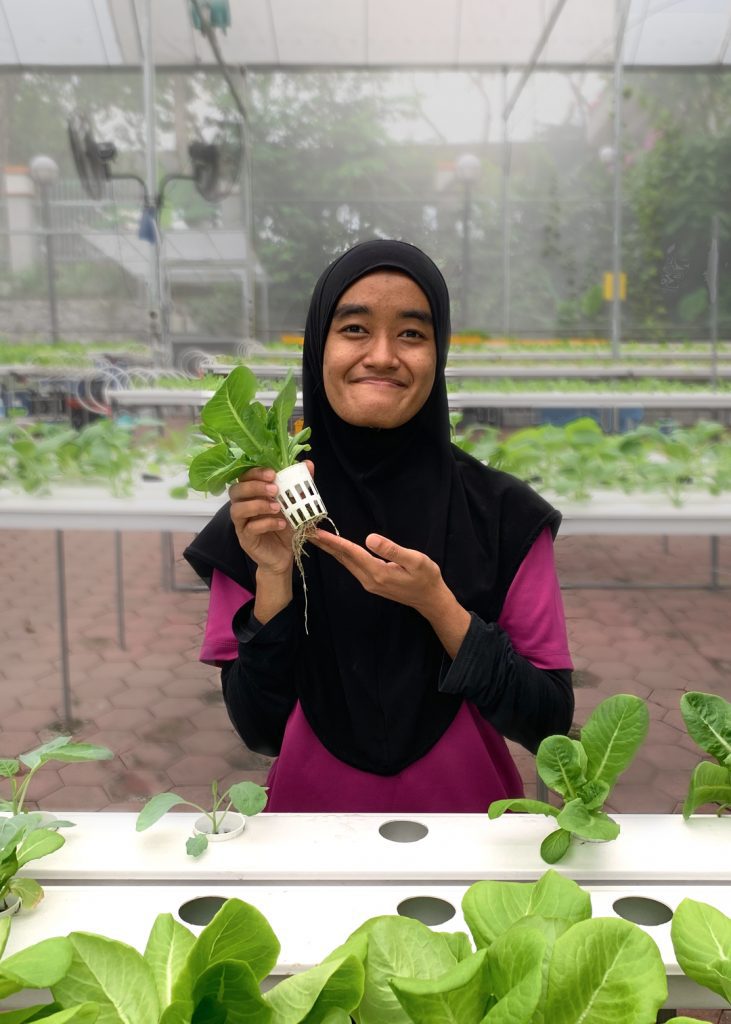 Saharida Smail is the lead agronomist of our outdoor farm. Our agronomist team is in charge of all stages of the crops– from seed sowing to maintaining to harvesting & composting. They also manage the quantity and quality of the vegetables, conduct R&D in growing methods and crop varieties, as well as train our farm apprentices.
What piqued your interest in coming to the agriculture field?
When we needed to choose a major at our university, I actually didn't know what to choose. Initially I wanted to be a doctor, but unfortunately my results weren't good enough for that. So I thought why not become a food producer instead? So that I could provide good food for other people.
How has it been since you started working in this field?
There's still a lot of things I need to learn. The longer I work, the less I feel like I know. There are many things I need to learn & hopefully I can explore more as I work in this sector.
Do you see any advantages of being a female farmer?
On the contrary, most people think farmers should be men, not women. When I tried to find work after graduating, many workplaces were looking for male agronomists for the labour power. That's why as a female agronomist, I feel like we need to work more. If the men give 100%, we have to give 200% to compete with them & give the people confidence in us.
How has it been like working at XFarms (all female agronomist team)? Do you feel the same way?
I do still feel the same way, as there are people beyond the farm here that are better than me. It drives me to keep improving and working harder.
We can see the fruits of your labour, and everyone's really happy with the vegetables so far!
Sometimes looking at the rejected crops–the lightweight and pest infected veggies- it's quite sad. There's many things to learn as to why these happen, I hope to be able to figure it out and address these issues.
Anything you want to say to women interested in entering the agriculture field?
You should do what you love. not because someone asks you to do something.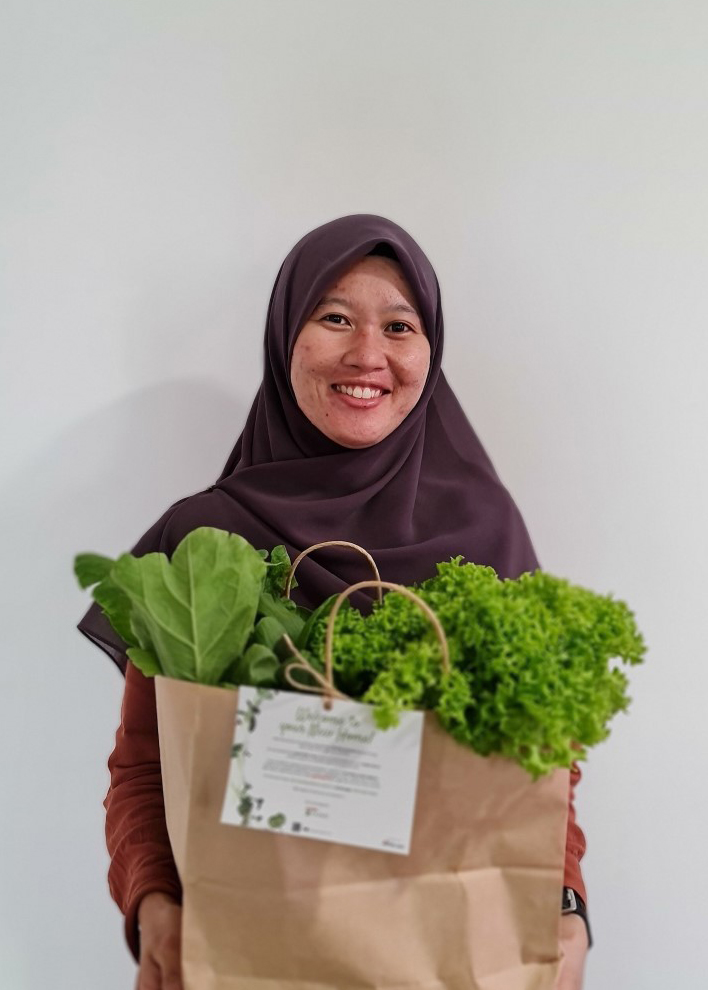 Nurlisa Su Sy Ei is the lead agronomist of our indoor farm, and has been with us since the farm first launched in 2020. She has been in charge of the agrifood apprentice programme and trained over 4 batches of students to date.
What made you interested in coming to the agriculture field?
The thought of how important it is to grow our food, and how food producers have more advantages than the consumer caused me to be in this agriculture field.
How has your journey as an agronomist been so far?
It's an interesting field, and I get amazed by what our hands can grow, and how people put the food we grow on their table. In a way, I feel like I help to 'grow' people indirectly, whether it's through the vegetables I produce or the skills I teach.
How does it feel working at XFarms?
Being in a company which advocates for gender equality gives me comfort. Here what matters is deliverables, regardless of gender. Being in a modern farm, strength is not a question, but good strategy; and teamwork is the main focus.
Anything you want to say to girls / women interested in agriculture?
Know your values, do not underestimate your ability and be confident.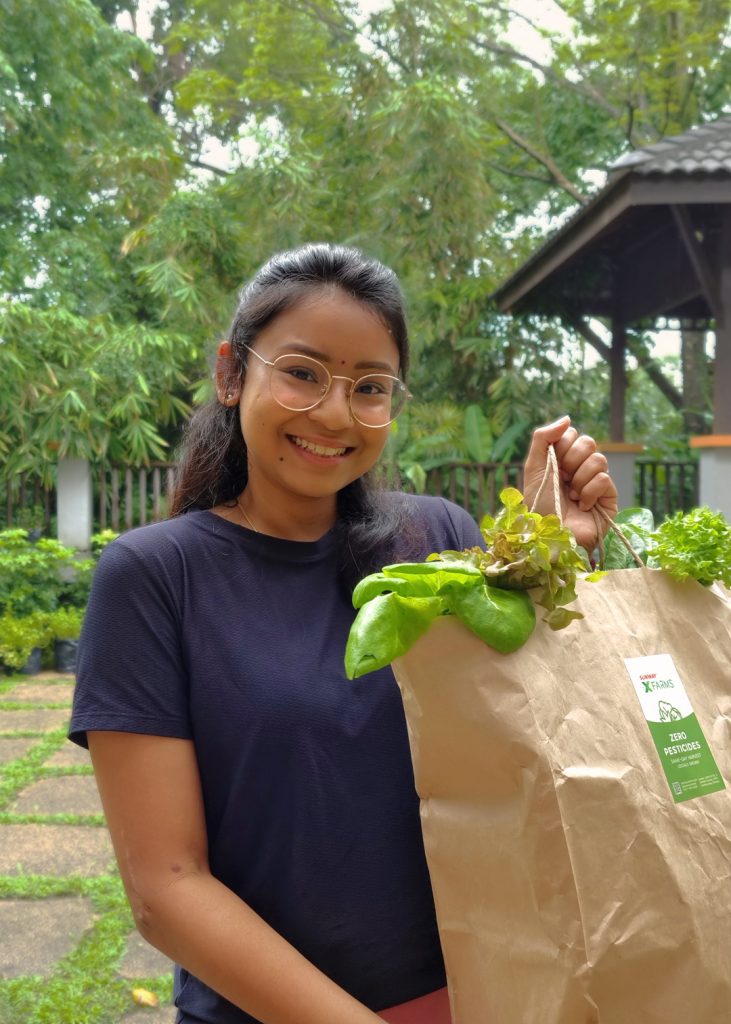 Sujitra Kunasakaran is the project manager of XFarms. She oversees the farm design & layouts, liaising with various contractors, site visiting, managing project budgets and ensuring construction is on schedule. We can't imagine expanding our farms without her!
What piqued your interest in pursuing your field of work?
I actually began my career as an interior designer, and now instead of building the interiors of houses and offices, I build farms! Looking back, I choose interior design because I was always driven to anything creative and artistic. I was lucky to have parents who encouraged me to pursue a career that made me happy. Not everyone gets this chance.
How has it been since you started working as a project manager?
Project managers in construction are usually from the engineering background, and there is a huge gender gap when it comes to that as engineering is a male dominated role. If at all, I feel empowered that I am breaking the bias and it does not damper my spirit in any way. Of course, having a very positive working environment here at Sunway XFarms is also a motivation.
How did you transition to starting your journey at the farm? How does working here feel?
After 7 years of being an interior designer, I set my mind for a more meaningful challenge. I had known about XFarms while working under Sunway and admired their visions, so when the time came, I took the leap to be a part of it. To this day, it is still a challenge to explain to people that I now work with farms 😀 But it has been great and very fulfilling to come to work every day– to be a part of a company that champions Sustainability and make an impact in the community.
What are some of the challenges of being a woman working in this field? Do you feel any advantages?
I am lucky to say that I do not experience any disadvantages– perhaps because I don't see myself as a woman in this field. I see myself as a working professional, equal to my male counterparts and that we are all working toward achieving our goals.
Anything you want to say to women interested in entering male dominated fields such as yours?
We should always be our best advocates, to always be self-sustainable, and most importantly have enough self-respect to push ourselves through any barriers to achieve our goals.
Thank you to Saharida, Nurlisa and Sujitra for taking the time for the quick chat!
Genuine, caring, hard-working & always striving to always be better, we want to give thanks and celebrate women all around the globe. Thank you for your hard work & be proud of all you have achieved!
Happy International Women's Day!