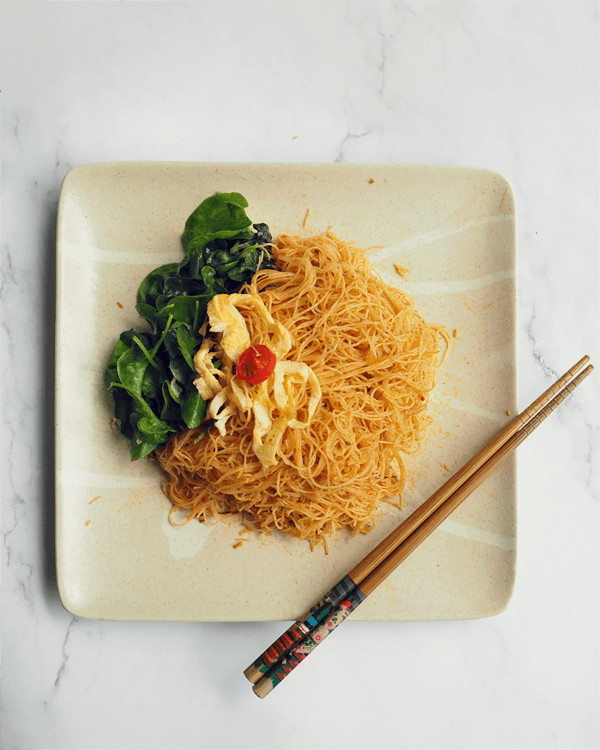 To the vast majority of Malaysians, fried meehoon is considered comfort food. A common sight at morning markets and local restaurants, meehoon siam is a hot favourite for lunch. Spicy, tangy and aromatic, this dish pairs well with gently blanched brazilian spinach, omelette strips and chilli.
Ingredients
150

g

brazilian spinach

250

g

dried meehoon

50

g

dried shrimp

soaked

1

onion

5

garlic cloves

8

dried chilli

soaked

2

fresh chillies

1/2

cup

chicken broth

3

tbsp

taucu

(soybean paste)

1

tbsp

tomato puree

40

g

tamarind paste

2

tbsp

brown sugar

2

eggs

3

tbsp

cooking oil

1

lime

1/2

tsp

salt & white pepper
Instructions
*Dried chillies and dried shrimp need to be soaked at least 1 hour beforehand.

Start soaking the meehoon in cold water for 30 minutes while you get on with the rest of the ingredients preparation. 

In a food processor, blend shrimp, onion, garlic, dried chillies, fresh chillies and broth well to make the spice paste.

In a medium size bowl, mix together taucu paste, tomato puree, tamarind paste and sugar.

Heat up your wok and add the cooking oil, followed by the spice paste. Fry for 1-2 minutes.

Next, add the ingredients mixed in the bowl and once it has come to a boil, add in the soaked meehoon. Add another 0.5 cup of water and let it cook on medium-high heat, stirring frequently to avoid sticking to the wok.

Taste and add salt/ pepper according to your preference.

In a pot of boiling water, add a pinch of salt and gently blanch brazillian spinach for 7-8 minutes. Remove and drain.

For the egg garnish, beat the eggs with a hint of seasoning and cook in a frying pan. Cook for 2 minutes on each side. It should resemble a flat omelette. Repeat with any leftover egg mixture.