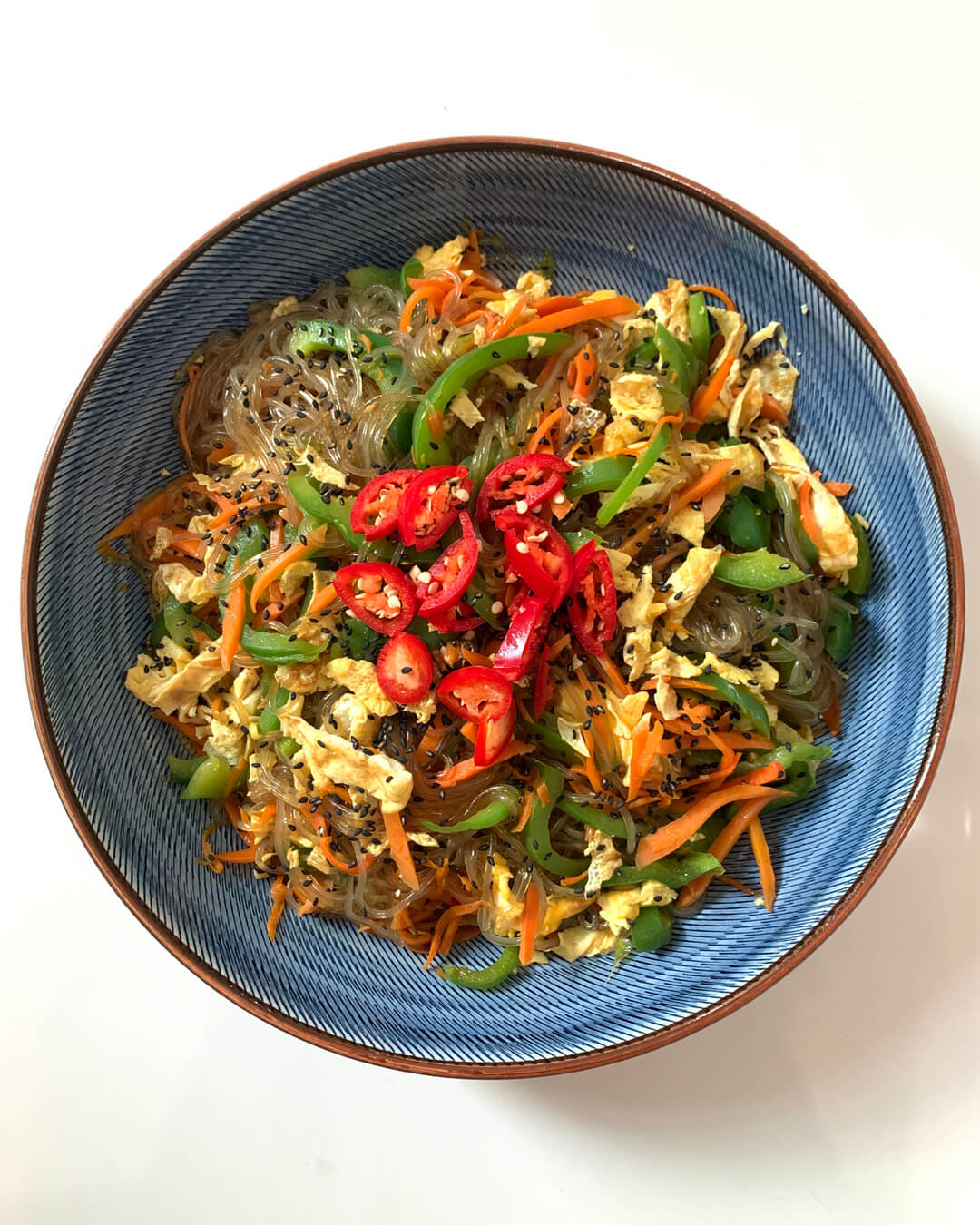 Japchae is a popular festive dish commonly enjoyed in Korea. A combination of sweet potato starch noodles stir-fried with lots of vegetables and meat (optional), it can be enjoyed on its own or served together with rice.
Ingredients
250

g

dangmyeon (sweet potato starch noodles)

1

onion, thinly sliced

1

carrot, thinly sliced 

1

green capsicum, thinly sliced 

2

large eggs

1

red chilli

5

garlic cloves 

2

tbsp

sugar

4

tbsp

soy sauce

4+2

tbsp

toasted sesame oil

2

tbsp

toasted sesame seeds

A pinch of ground black pepper

A pinch of salt

2

tbsp

grapeseed or olive oil
Instructions
Beat the eggs in a pinch of salt with a fork.

Add a thin layer of egg mixture to a medium heat pan. Cook for 1 minute. 

Repeat with the remaining egg mixture. Once cooled, slice it into thin strips.

Next, prepare the noodles and vegetables.

Bring a large pot of water to a boil and add the noodles, cook for 7-8 minutes. Stir the noodles while cooking to prevent clumping or sticking together. 

Once the noodles are soft and chewy, strain out the water. 

Add soy sauce, sesame oil and sugar. Mix well and set aside. 

Next, heat up a pan over medium-high heat. Stir fry the sliced garlic, onions, capsicums and carrots in oil for roughly 3-4 minutes. Add to the noodle bowl.

Mix the noodles and vegetables well. Season with black pepper, more sesame oil and salt if needed. 

Garnish with sesame seeds, chillies and egg stripes before serving.